Another important guideline to be followed while creating your own logos is consistency. With a consistent style, your icons and sets stay on point. If, for example, you decided to make a 3D icon, make sure all the icons from the set follow the same set of rules. This is a very important guideline you need to take into consideration while creating your own icon.
Pixel Art Icons
Icons used to be simple illustrations, which were pixelated due to the resolution back in the day.
Designers of pixel art icons use as few design elements as possible to grab the audience's attention.

These days, pixel art icons are considered very popular since they are a powerful nostalgia trigger. 
Thanks to the software and tools, designers can put in the detail and revamp the style with more colours and depth. 
Isometric icons
The Atari 520ST computer and the change in pixel art it brought about, created what is now known as the isometric icon.
This allowed for new levels of depth and three-dimensional look.
Line Icons
Line Icons are one of the most popular styles used today, they portray powerful imagery with the use of simple lines and shapes.
Computer technology has changed the style of logos and designers use curved lines, rounded corners, and a variety of line weights in their work. Color adds even more visual weight to the work and attracts attention without burdening the design with detail.
Glyph icons
Glyphs are hieroglyphic symbols. These glyphs use simpler monochromatic shapes and symbols with an emphasis to simplicity.
Flat icons
With the new visual language Metro, the flat icons become extremely popular because they are void of plenty of details, and essentially a minimalist style with clean lines. These are icons with bare essentials.
Material icons
These are advanced forms of Flat icons. Google has also created an extensive guide on the colour styles and material properties to help designers.
It is an excellent step forward from the flat design seen in most interfaces today.
Dimensional Icons
The dimensional style uses perspective in design to introduce depth. It provides both the front and side view of an object. It combines the elements of both, line icons and isometric icons.
Creative 3D Icons
3D icons creates a better representation of their interface than just a flat icon. The three-dimensional design approach gives designers the ability to provide a user with more information about their product.
Designers use their creativity in full potential to create beautiful 3D designs, but it's important not to get carried away so that the icons remain simple.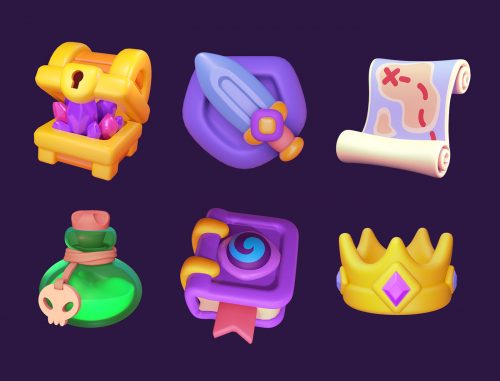 Hand-drawn icons
Hand-drawn logos and icons offer a more personal touch to the design, but it's not used widely, as brands view them as too playful.
Grid
The use of grids allows for balanced and flawless designs. To avoid blurry edges, make sure icons fit within the grid. Grids should not be seen as limitations but rather effective ways to achieve precision.
What are the four basic types of grids?
Dot grids should be used when you need a lot of structure without too much distraction. 
Square grids are good when you are working with straight lines.
Square grids with diagonal lines are great for almost any geometric shape. 
Thirty-degree angle grids can give designs some depth(3D) and clarity. 
When you create a grid, the best practice is to make it 24 by 24 pixels so everything will be clear and visible. You can scale it up or down by making sure that it is divisible by 8.
Scalability of icons is critical. You need your icon to look great in any situation, so it can be seen on phone screens and large tv displays. Test out different size icons before deciding on one to make sure it
always looks great.